Opening at the site of the START: the turn of the century "Creating monsters"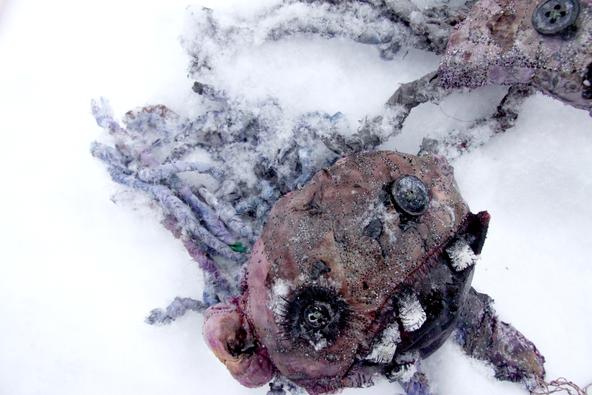 Project "START" presents the first results of a series of portfolio review and at the Universities, opening on 24 October at the platform for the young artists "START" a personal exhibition of students of the School of design HSE frontiers of the Centuries of 'giving birth to monsters". Graphics, objects, plastic, small, video, and short-run zines tell the story of the birth of monsters — the characters ' internal mythology of the artist.
Artist of the start of the Turn of the century:
"the Starting point of my art — a little doll Maria, the female being without personality, but with a mass, suspended in a state of endless birth of monsters. Regardless of who was involved in the conception of this "monster". Most interesting to me — the status of women in any of these moments. What is the difference that there is an abstract evil, if it is impossible to grasp by the hand and build a dialogue. There is a real body, the real story of the eternal bearer (and physics, and metaphysics) and perpetual imitators".
In his works the artist combines the organic substance with the cloth, ceramics, paper and other materials. Milestone uses the author's technique of embalming, due to which chicken hearts, pork tongue, hair, human fat and blood forever become part of her art. Work done with a jeweler's precision, recall inlaid with precious stones of the medieval tomes.
curator of the project START of the SRC WINZAVOD season 2017/2018 Faith Trachtenberg:
"the Exposition is built on the principle of "dark room of consciousness", in which the viewer is left alone with the narrative, reminiscent of the terrible medieval tale: all of us love to be scared when the story is not about us, but about the other. These "other" inhabit the exhibition space, becoming the fact that can scare the viewer, to interest him or to make us think about a whole range of eternal pain points-issues related to objectification, violence, bervoerts, the archetype of the traitor and the total lack of understanding".
the Exhibition "giving birth to monsters" will be the first coherent statement of the artist and will introduce a wider audience to her work.