Artist Launch Stas Bags at the exhibition "Ripe fingers of elephants"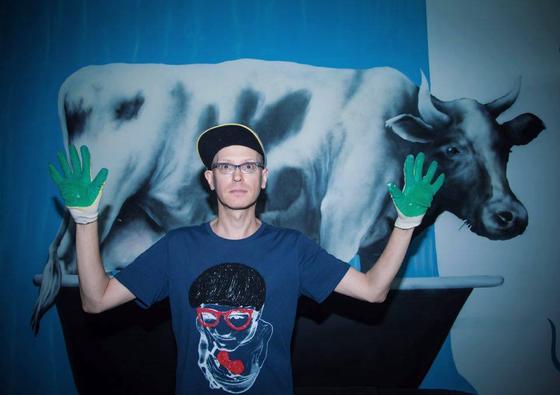 August 23 in the OT, there will be a curatorial project of Andrey Bartenev, breaking the boundaries between street art and contemporary paintings.
Unripe fingers of elephants — not just the title of the exhibition. According to Andrey Bartenev, fingers elephants — it's a spray paint that use street artists. "Why so ripe? Yes, because a squirter. — says Bartenev. — We are opening not just another exhibition of graffiti, and trying in one fell swoop to cover the distance between street art and contemporary painting, sculpture and video art, to combine them into one installation, to destroy a everyday life with bright colors and positive images".
Almost all summer in the gallery work is in full swing, invisible from the street. In July announced an open call, following which the curator has selected 50 artists — from quite young to quite a adults — whose duty was to come to the gallery at a specified day and to decorate a wall, or a wall, or free-standing piece of drywall, or hardboard, or canvas. Now we can confidently say that the exhibition 'Overripe fingers of the elephants" represents the rare case in curatorial practice, when the preparatory period is much longer exposition, — the exhibition was prepared for two months, and after only one.
Participants: Andrey Bartenev, Stas Bags, Michael Bridge, Nicholas N888K Nikolaev, Denis Thekko, Cyril Booth, gosh Ykor, Eugene Bam, Jan Negodzilla, Chris Riggs, Michael Shtern, Ivan LRKNRK Kovalevsky, Nikita Kurtzev, Konstantin Volkov, Sergey Nikitin, Timofey Caraffa-Korbut, rose, Anna Birshtein, Max Antipov, Andrey sodahaus Salinger, Tanya Strelbitsky, Alex CoE, Ivan Ninety, Alex Copper, VARENIE the BODY, Mr Eloom, Kostya August, Zachary Evseev, Sophia Astashova, Gurgen Petrosyan Katya Scheglova, Slava PTRK, Roman Fedorov, Evgeny vyguzov, Alexander Zaikin, Nika Chernyaeva, Basil Iron, Mr Perkin, Vasilisa Lipatiev, NEWMAN (Arthur Ruskin), Max HIKM, Maxim Tatarintsev, Andrew Petrunin, Roman Manihin, Polina Kukushkina, Evgeny Ches, Mila gig, Vladimir Dudkin, Vera Barkalova, Anthony Leo, Arseniy Truba, Julia Gvozdeva, 6INISTER.
the Exhibition runs until September 25.