The work of the graduate project START Akhmetgalieva presented at the exhibition "Football-Hockey"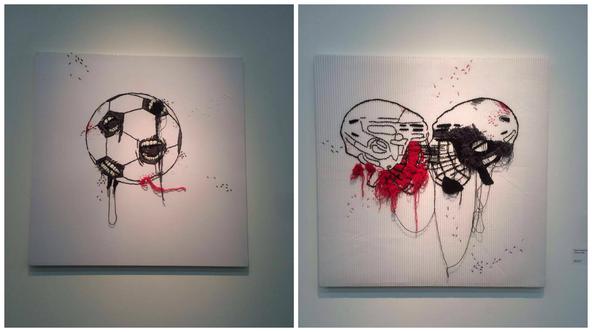 may 18, 2016 VLADEY and the Center for contemporary art WINERY presented a large-scale exhibition project «football — ice hockey".
Tatiana Akhmetgalieva is among 60 Russian modern artists, United in one team, to continue the tradition of famous authors of the Soviet era: Alexander Deineka, Alexander Rodchenko, Varvara Stepanova, Yuri Pimenov, Alexander Samokhvalov.
the Sport was one of the most popular themes in Soviet art 1920-1930-ies. An outstanding artist A. A. Deineka said: "I love sports. I can enjoy for hours on runners, pyatibortsev, swimmers, skiers. I always thought that sport ennobles man, as all the beautiful". The topic of sport infinitely deep, it not only allows you to find and Express plastically beauty and dynamism of the movements of shapes, but the internal desire to win, the will and the romance of the competition.
Work Akhmetgalieva, as well as Oleg Tselkov, Sergey Bratkov, Dmitry Gutov, Paul Pepperstein, Sergei Shablavin and many others can be seen at the Brewery until June 19.
read More: http://www.winzavod.ru/events/?id=1856